Life safety and environmental protection
Academical degree:  Bachelor of techniques and technologies in a specialized field 5B073100 – Security and Environment Protection. 
The subject of choice:
secondary education: physics/mathematics
medium-technical & vocational education: electrical engineering/ basis of materials science.
higher education: based on interviews
Mode and duration of education:
Full-time education (after finishing school): 4 years
Full-time medium-technical & vocational education (after college): 3 years
Distance medium-technical & vocational education (after college): 3 years
Distance education (after finishing higher education) – 2 years           
The description of specialty.
The complexity of output and the emergence of innovative technology will increase negative impact on the environment, so this leads to the accident, severe diseases, and injuries. The human impact on the environment and developing of human technological civilization have an unquestionable influence on technosphere. All these processes identify the relevance of security professionals and occupational therapist preparation. The security professionals is a qualified specialist, who capable to solve issues, which related to human security in conjunction with technosphere and with the environment. Their role is to provide a secure and an environmentally harmonious exploitation, a natural resource management, a forecasting and an emergency.
The advantages:
The department has laboratory facilities, where scientific research project on human security and environmental protection are carried out with a goal to use of the theoretical knowledge and for the operation of equipment using new technologies.
The academic mobility:
In the Internal Academical Mobility Programme having the opportunity to educated in partner educational institutions for the specialty a "Security and Environment Protection".
External Academical Mobility organized by Department of Education and Science of the Republic of Kazakhstan and financed from Republican budget, and also funding by students. 
The opportunity for students of this specialty:
With the aim of improving student exploratory work at the specialty  "Security and Environment Protection", "Young ecologist" carries out its own research work.
The students result of their exploratory work is the participation in a competition, olympiads, conference and in other scientific events and also increasing the number of students, who interested in science. Students in specialty "Security and Environment Protection" get a prize at Republican subject olympiads which held every year by Al-Farabi KazNU.
The opportunity for students who completed the educational programme for the profession "Security and Environment Protection":
An ultimate goal of the educational programme "Security and Environment Protection" is to guarantee a clear direction in the future, which will give an opportunity to articulate knowledge based on preparation fields, personal and professional achievements satisfy requirements of the employer.
After finishing course the student know:
Development and implementation of projects, technical decisions, and events in the field of fire, industrial, environment, chemical, radiological, biological and other types of safety.
Protecting the environments and its components (air pool, water, ground, biotic and other resources) from the human impact.
Brings out the experimental and other activities related to the solution in life protection problems, Environmental Protection, and Emergencies protections.
Our graduates are prepared to work in the various area:
– higher and vocational institutions
–  major domestic and foreign oil and gas companies
– research institutions
–  Research and Production Center,
– a firm of oil and gas transport and storage.
– government agencies and etc.
Short information
Specialty code:
5B073100 – "Safety of life and protection of the environment"
Academic degree:
Bachelor of Techniques and Technology with a degree in Life Safety and Environmental Protection
Subject of choice: Physics
Profile: Mathematics
Form and terms of training:
full-time – 4 years
Cost of education:
346 600 tenge / 1 academic year
On the basis of secondary vocational education:
(distance learning)
General subject:
Electrical Engineering
Profile subject:
Fundamentals of materials science
Duration of training: 3 years
Cost of education:
175 000 tenge / 1 academic year
The reason for choosing this particular specialty was the possibility of preventing potentially dangerous situations in various industries, minimizing the risk to the population and providing employees with safe working conditions.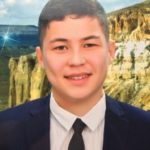 Within the framework of academic mobility, I studied for six months in Bulgaria (Burgas) at the university "Professor Dr. Asen Zlatarov." Having good knowledge and practical skills, he prepared a project on the topic: "Secondary use of household waste from fiberglass" for the competition of scientific projects «ATAMEKEN STARTUP WEEKEND AKTAU».